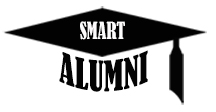 SmartALUMNI is an alumni data collection system.  A strong alumni organization can be a beneficial asset to a school district. Pride in a school system can bring resources back to a district, or even initiate profitable fundraising efforts in the name of the old alma mater.
SmartEDU has developed an inexpensive, versatile and easily manipulated tool for collecting alumni information on-line. Designed to be accessed through a link on your existing district website, graduates may:
register their own personal information
search a desired graduation year for friends
leave messages (perhaps a reunion announcement) for members of their class.
All registrations and messages are required to go though an approval process to verify their legitimacy before being posted online.
Administrative functions include the ability to:
oversee/modify the password and/or email address of approval personnel
approve, modify, or delete an incoming registration
download all data to a .csv file to facilitate further analysis or manipulation.
search registrations by name (first or last) or by year of graduation.
Most high school alumni want a convenient way to "stay-in-touch" with their classmates after graduation and to be able to contact their friends over the years. SmartALUMNI facilitates this process. Also, alumni organizations need a tool to collect alumni information to track the movement of past students after graduation. SmartALUMNI data can be regularly downloaded to a spreadsheet and used as a source document for a mail merge program or a mailing label generator. SmartALUMI collects and manages this data for your district.
---
For more information and/or pricing on this product please contact:
Chuck Drayton, Director of New Business Development
Phone: 508-543-2804
Email: