View Demo Site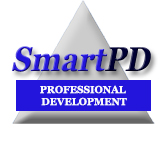 PRODUCT DESCRIPTION:  SmartPD is a professional development management system that allows all the parts of a district's professional development program to be easily viewed from one online location.  Faculty members access this program from a link on their district website.  SmartPD is designed to adress all their professional development issues, needs and questions. SmartPD features include: interactive district policy pages, district workshop/course offerings, professional development day offerings, online registration, outside course approval, faculty PDP transcripts, highly qualified status management, class-list displays, class attendance sheets, administrative credit approval, and many other functions.  Optional features are available if needed in your district: an IPDP tool for faculty members to track recertification materials, a Course Evaluation feature, an automated Course Reminder Email feature for workshop participants, and an added password level to allow for instructor access. With a staff that's comfortable using SmartPD, a district will have its entire district's professional development information available to them in an efficient, well organized, and easy-to-access display. Advantages to using SmartPD in your district:
All district professional development materials are in one location for your staff
Professional development resources to be instantly accessible online
The online content is editable by your administrators. Website information and online content can be modified easily without having to go through a webmaster.
The application is very easy to use and roll out to a staff
The basic framework of the program is customized to the professional development processes now existing in your district
The program is web-based, so there is no need for additional hardware or software to be purchased by your district
SmartEDU takes great pride in its friendly, effective and efficient product support.
LIST OF OPTIONAL SMARTPD MODULES AVAILABLE: (these modules are not included with the standard SmartPD package)
Automated Email Reminder Module
Course sharing Tools feature
Evaluation Survey Module
Instructor Access Module
Facilitator Access Module (second instructor)
Individualized Professional Development Plan (IPDP) Module
Multiple Date Attendance Module
Multiple Point Approval Module
Salary Level Calculator Module
Substitute Teacher Module
---
Please note: this product has FOUR different versions to fit your professional development needs:
SmartPD-Individual – for use in a single district only
SmartPD-Collaborative – for use by a Collaborative and its staff – allows outsiders to create their own accounts
SmartPD-Collaborative (with Member District Sharing) – allows member districts to all share courses with one another through the Collaborative. 
SmartPD-Regional (with Multiple Collaborative Sharing) – allows all member districts of multiple Collaboratives to share courses using a SEARCH TOOL.
---
For more information and/or pricing on this product please contact:
Chuck Drayton, Director of New Business Development
Phone: 508-543-2804
Email: